SHADE SELECTION
Depending on the type of crop, its light and photosynthesis needs, the right choice of shade nets are critical. Malmo offers the following recommendations for selection of Agronets.
Roses, Strawberries. Gooseberries, Tomatoes, Cucumber and fruit bearing plants can thrive well under 25% shade netting. For plants that grow under partial light like general Pot and foliage plants and Cut greens, Orchids, Anthuriums, Ginger, and other flowering pot plants use of 50% Agronets is recommended.
For plants that grow under extreme low light like Indoor plants, certain Orchids, plantation crops, Tea, Coffee, Cardamom, we suggest 75% Agronets. It is also useful in summer to reduce the light level of some general purpose crops in certain geographic regions. We recommend the 95% shade nets for usage in Cattle sheds, Poultry houses, Construction Scaffolding and vehicular shades. .
USAGE & FASTENING
Several fastening techniques are possible to be used with shade netting. Eye holes are provided on the edges of the fabric to join them together while fastening on the structures or with the fabric. Usage of UV stabilized fasteners and HDPE threads are recommended. Certain standard design clips and pallets are available for custom usage. Depending on the type of structure employed, one has to visualize the type of accessories that one may need to secure the fabric firmly in the shade house.
Bird Nets/Insect Nets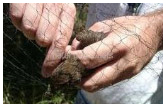 GWRL is one of the largest producers of HDPE nets in the world. The impeccable fishing nets it manufactures at its modern, integrated manufacturing facility are sold in more than 40 countries in the world.
A seamless integration of technology, manufacturing facilities, trained operators, engineers, best shop floor management practices means that you get product, which is peerless. We distribute Garware Nets of different sizes and also fabricate into sizes to meet your need.
Knot size
Knot stability
High knot strength