Physically hardening adhesives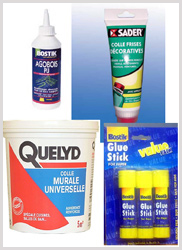 Drying Adhesives


Technology
They are made of polymers dissolved in solvent (Polychloroprene, Polyurethane) or dispersed in water (white glue based on PVA (Polyvinyl acetate, cellulose, casein, polyvinyl alcohol or polyvinyl pyrrolidone composition).

Bonding process
The setting process of bonding is obtained by solvent evaporation, water evaporation or coalescence (When water or solvant is evaporated, the polymers'molecules become closer and closer until to form a continuous film adhesive) of a water based dispersion polymer.

Applications
Depending on the chemical composition of the adhesive, they will adhere to different materials to greater or lesser degrees. These adhesives are typically used for cellulosic supports (paper, cardboard and wood) or household applications.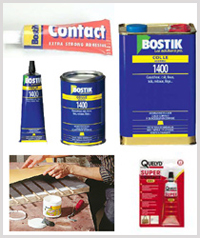 Contact Adhesives


Technology
They are made of Natural Rubber and polychloroprene (Neoprene).

Bonding process
They must be applied to both surfaces and allowed some time to dry before the two surfaces are
pressed together. Once the surfaces are pushed together, the bond forms very quickly, hence, it is usually not necessary to apply pressure for a long time. So there is no need to use clamps.

Applications
Contact adhesives find use in furniture and footwear Industries.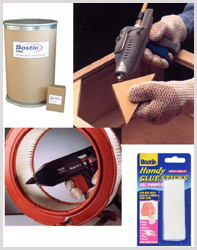 Hot Melt Adhesives
Technology
These solventless adhesives are based on thermoplastic materials. A thermoplastic is a
polymer that turns to liquid when heated and freezes to a solid upon cooling

Bonding process
The hot-melt adhesive is heated and applied in its liquid state with the aid of glue guns or nozzles and the bonding is obtained in few seconds by cooling.

Applications
Hot melt adhesives are used in packaging, book binding, textiles, footwear and furniture, automotive, electronic industries.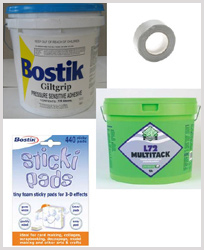 Pressure Sensitive Adhesives (PSA)
Technology
Pressure Sensitive is a term commonly used to designate a distinct category of adhesives based on elastomeric materials, such as Styrene Block Copolymers, which in dry form are permanently tacky at room or low temperature.

Bonding process
This adhesive forms a bond when pressure is applied to marry the adhesive with the substrate.

Applications
Pressure sensitive adhesives are designed for both permanent or removable applications and some high performance permanent PSA exhibit high adhesion values. They are used in pressure sensitive tapes, labels, note pads, automobile trim, and a wide variety of other products.

Chemically hardening adhesives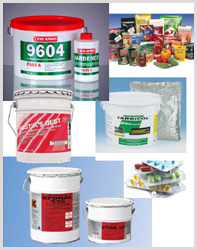 Polyurethane Adhesives
Technology
Polyurethanes adhesives are based on Polyisocyanates and Polyether / Polyester Polyols chemistry. They are available in one or two components systems.

Bonding process
The one component adhesive (PU1K) reacts with air humidity and can be applied at room temperature (PUR) or at high temperature like a hot-melt adhesive (HMPUR). The two components adhesive (PU2K) needs to be mixed according specific ratio before use.

Applications
They find use in Industrial Assembly, flexible packaging, windsceen bonding.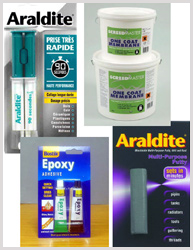 Epoxy Resin Adhesives
Technology
Epoxy adesives are a major part of the class of adhesives called "structural adhesives". As for the polyurethanes, they can be one or two components systems.

Bonding process
The one component epoxy needs to be cured at high temperature, whereas the two components epoxy bond at room temperature. They can be made flexible or rigid, transparent or opaque/colored, fast setting or extremely slow setting.

Applications
These high-performance adhesives are used in many applications (transportation, golf clubs, skis, snow boards, household) where high strength bonds are required.


Anaerobic Adhesives
Technology
anaerobic adhesives based on diacrylate chemistry are single-component adhesives that harden rapidly to form a strong bond between surfaces from which air is excluded.

Bonding process
Oxygen is an inhibitor for anaerobic adhesives. In the presence of oxygen in air, the product does not react and stays liquid. These two following conditions are needed for proper cure:
Contact with a metal surface.
Absence of oxygen or air.
Applications
They are recommended for use on metal surfaces, for threadlocking of nuts and bolts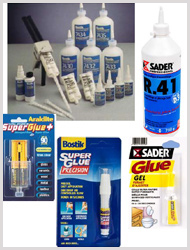 Cyanoacrylate Adhesives
Technology
Cyanoacrylate adhesives are one-part acrylate adhesives often called "Super glues®".

Bonding process
Cyanoacrylate adhesives cure instantly on contact with mated surfaces through a reaction with surface moisture (anionic polymerisation).

Applications
They are used in Industrial and consumer glues, in the veterinary glues and in medical applications.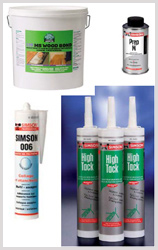 Silylated Polymer Adhesives
Technology
Moisture curable Silylated Adhesives & Sealants are a part of these last years' recent developments. Silane-modified adhesives and sealants based on SMP (Silane modified polymer) are designed as onecomponent systems.

Bonding process
SMP adhesives have to be applied from 5°C to 30°C and bond within 10-30 minutes by reaction with air humidity.

Applications
Due to their chemical structure these kind of polymers exhibit good weathering and aging resistance as well as an almost universal adhesion spectrum without need of primers. They excel where elastic construction joints are required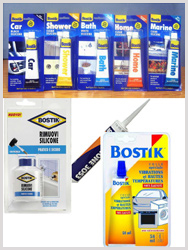 Silicone Adhesives
Technology
Silicone adhesives are based on Polysiloxanes chemistry which allows high flexibility even at low temperature as well as humidity and temperature resistance. They are available in one or two components systems.

Bonding process
Both systems cure by polycondensation initiated by moisture for the one component system and by reaction of a silicic acid ester with polysiloxane for the two components system.

Applications
Silicone adhesives give moisture resistant bonds for glass and ceramics therefore is mainly used for sealing joint in sanitary application.